MOTIVATION
Performing arts is an important part of Europe's intangible cultural heritage. The live display makes it, in most of its part, unrepeatable. Even if the same show is performed twice, in the exact same conditions, cast and audience, it will still be different. Theatre and dance performances have not been recorded to an extent and even when recorded, this is done by methods of controversial quality. Even nowadays, that a large variety of digital tools is available, there is still the risk of losing the chance to deliver new-born cultural heritage to future generations.
Additionally, the cultural and creative sector is faced with a new crisis brought on by the Covid-19 pandemic surge. The live arts sector was of the most affected ones and there emerges the need to employ specific recovery tools that help professionals and services come back to business. Thus, it is critical to develop a variety of tools that will not only preserve in a typical sense, but also support the whole lifecycle of a performing arts artifact in a remote manner.
PREMIERE
The overall objective of PREMIERE is to develop and validate a comprehensive ecosystem of digital applications, powered by leading edge AI, XR and 3D technologies, designed to fulfil the needs of diverse end-user communities involved in the main stages of the of the lifecycle of performing arts productions, including amateur and professional performers, performance art producers and curators, performance art spectators and scholars.
OBJECTIVES
Broaden accessibility to audiences that cannot attend live performances due to physical distance, health reasons or economic causes.
Enhance the understanding of present and past performances by audiences with diverse cultural, social, historic and educational backgrounds.
Enrich the creative process by adding new elements, dimensions and capabilities, offered by advanced digital technologies, while enabling international collaboration.
Increase the visibility of performances by supporting both spectators in searching for relevant content and producers/curators in communicating their work to the most relevant audiences.
OVERVIEW
PREMIERE aims to modernise performing arts by developing digital tools to support the full lifecycle of a performing art artifact, from the production until the consumption and preservation.
For the production process PREMIERE will provide tools for rehearsing and performing and will also define a capturing and storing protocol for new performances. Regarding existing artifacts, PREMIERE will use digital tools for indexing and curating existing dance and theatre archives. On the understanding and enrichment stage, the old and new-born digital artifacts will be analysed and enriched using Artificial Intelligence methods and will be encapsulated into a Virtual Reality world with advanced navigation functionalities. On the distribution stage the added value derived from the use of such technologies will be demonstrated by providing VR browsing and VR streaming interfaces for reaching a variety of end-users.

Overview of the PREMIERE performing arts lifecycle, © PREMIERE
CORE TECHNOLOGIES
We use state-of-the-art technologies for better understanding and perceiving cultural heritage in performing arts.
AI
Artificial intelligence techniques related to multimodal (audio, video, images, text) processing technologies for the semantic enrichment of performances.
XR
Extended Reality technologies to enable immersive access to standard and semantically enriched performances.
REUSABLE SOFTWARE COMPONENTS
We will provide reusable software components to make the derived knowledge interoperable, sustainable and accessible.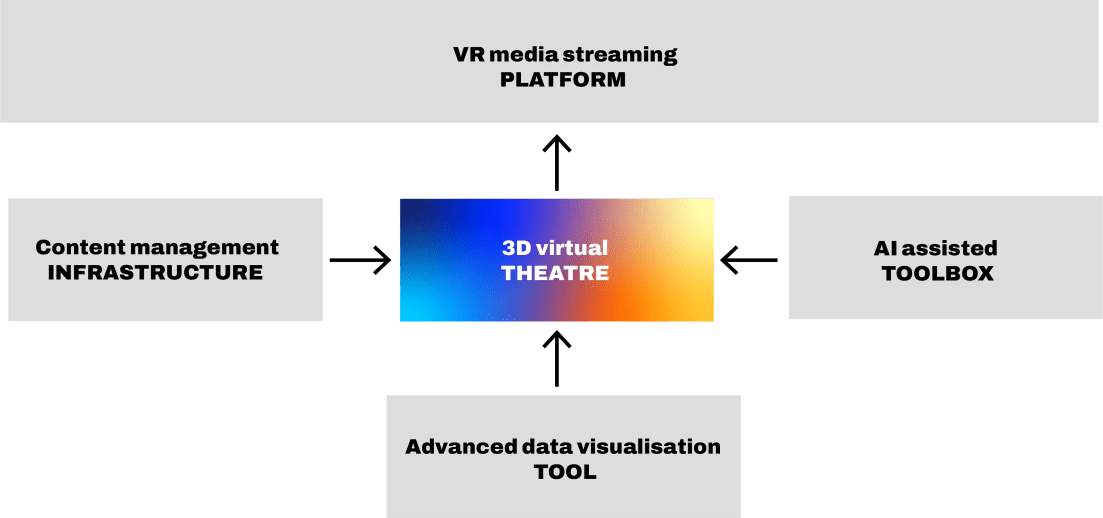 Relation of reusable components, © PREMIERE
PILOTS
Four real world use-cases will be created to test and share the technological developments with the performing arts community: artists, audience, creative industries, archives, scientists, ICT and XR professionals.
Performing arts archives browsing enhanced with AR/VR technologies
Live performance enhanced with VR technologies
Actor/dancer virtual co-creation performance
Dance-based artistic creation environment